Tisme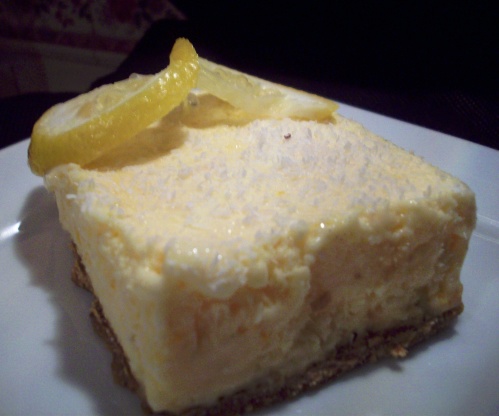 This recipe is from my mother's collection and is torn out of an old Ladies' Home Journal. It must be from the 60's...I wish I could show you the great hair flip on the woman with pearls making this. Did all our mother's wear dresses and pearls to cook in?

Top Review by Tisme
My DH loved this. I used ginersnaps instead of graham crackers (cant get them here) and also desicated coconut as I was not ablt to find angel flake coconut. But everything else I followed exactly and it turned out perfect. Easy to make and such a great lemon flavour. Such a lovely light and cool dessert, will be perfect for summer! Thanks for a great recipe Mary.
Combine graham cracker crumbs with 2 tablespoon of the sugar, and melted butter.
Press mixture on bottom and sides of lightly buttered pie pan.(the recipe calls for a refrigerator tray but I don't have a clue what that is).
Beat egg yolks until thick.
Combine with condensed milk.
Add lemon rind and juice gradually, stirring until thick.
Stir in 1 cup coconut.
Whip egg whites until foamy.
Gradually beat in rest of sugar, then beat until stiff.
Fold into lemon mixture.
Pour into tray (pie pan)
Sprinkle top with remaining coconut.
Chill in freezer until firm about 4 to 6 hours.