Lemon-Raspberry Cornmeal Cake
Megohm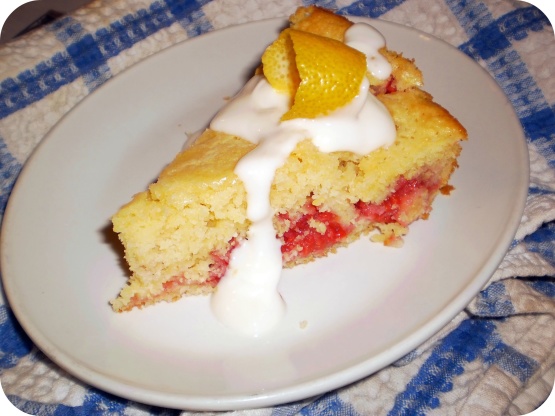 A very easy and delicious dessert or snack-cake (breakfast?) to throw together in a snap. Full of flavor and chock-full of comfort!
Preheat oven to 350 degrees F.
Grease an 8 or 9" skillet.
In a large bowl, combine all dry ingredients, as well as lemon zest and raspberries.
In another medium bowl, beat the eggs slightly, add buttermilk and melted butter, and mix well.
Pour wet mixture into dry, and stir just until moistened.
Let sit 5 minutes, then pour into skillet.
Pour 1 Tbsp cream (any kind) over top, and place in oven.
Bake 35 minutes or until top is crackly, golden brown, and a toothpick comes out clean.
Great served with a dollop of vanilla yogurt.