Lemon Pork Chops with Salsa
vrvrvr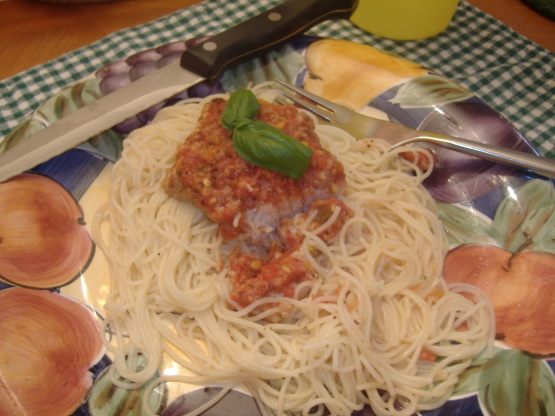 A simple dish that's packed with flavour. It's easy to adjust the heat by taking out all the chilli seeds or leaving them in.

Top Review by vrvrvr
Excellent flavor! I seared the chops, then transferred them to a baking dish, put the salsa on top of them and roasted for 10 minutes as directed. I didn't use any olive oil in the salsa. I didn't have any chilies, so I pureed some jalapeno pepper, and added lemon zest to the salsa. Served this over angel hair pasta. Everyone loved the fresh, light and utterly delicious taste of this dish. Great way to use up summer tomatoes. We thought this was fantastic!
Preheat the oven to 200 C or 400 degrees F.
Chop the tomatoes to a pulp, then mix in the chopped chillies, oregano, breadcrumbs.
Season with salt and pepper, if desired.
Mix in the vinegar and add enough olive oil to make a thick sauce.
Heat an ovenproof frying pan.
Season each chop and seal on each side.
Take the tray off the heat.
Squeeze over the lemon juice and place the lemon halves in the pan.
Roast in the oven for 10 minutes.
Press the lemon halves onto the chops and baste with the juice.
Roast for another ten minutes or until firm to the touch.
Serve with the salsa.