Hadice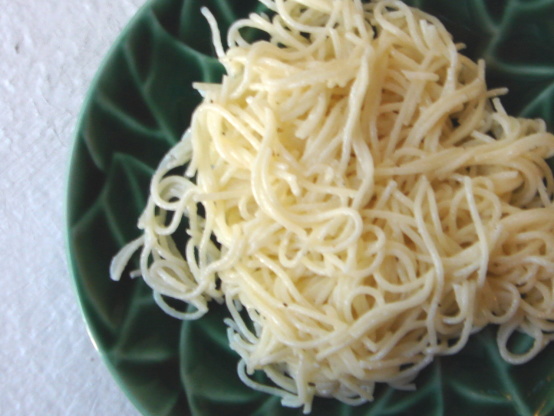 This is a creamy lemon sauce I found in a magazine - the lemon flavor is very intense. I really like this with seafood. You can use it as a side dish, or add clams, shrimp, etc., to the sauce.

This was good. I misread the recipe and used ALL the juice from the lemon. I doubled this recipe and I didn't have 1/2 & 1/2 so I used 1 cup nonfat milk and 1 cup whipping cream. Mine did NOT curdle. You have to boil the lemon juice for atleast 30 seconds then whisk the half and half in and keep whisking while it reduces. I served this with "Chicken Thighs with Sweet Onion Balsamic Relish recipe # 107384. After both sauces were done, I pulled the meat off the bone, and mixed back into the balsamic relish, then mixed this in with this lemon pasta and it was a fabulous balance. The sweetness balanced out the tartness of the lemon. Superb!
Cook the pasta al dente.
Melt butter in a skillet with lemon juice and zest.
Let the mixture bubble for 30 seconds.
Add the half and half, salt, and pepper.
Cook the sauce until the liquid is reduced by half.
Toss with cheese and pasta and serve.