Diana 2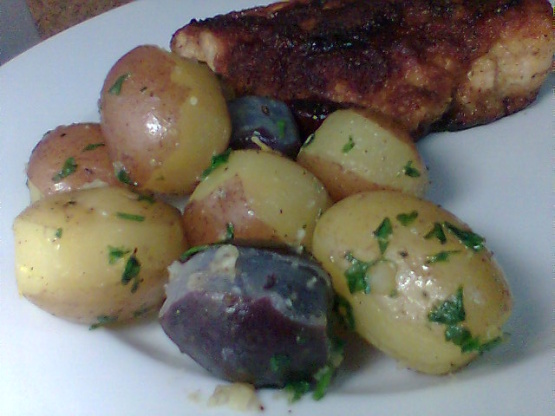 Top Review by Kishka
These were delicious! I boiled the potatoes in chicken stock instead of water to give them some flavor from the outset, and I added the juice from the lemons I zested, too. Make sure you taste one and adjust for seasonings before you serve them - I found that they needed a bit more salt than called for to really bring out the flavors.
Using a vegetable peeler, cut a strip of peel from around middle of each potato Place potatoes in a large pot.
Add cold water to cover and 1 teaspoon salt.
Bring to a simmer over medium heat; cook potatoes until tender when pierced with a knife, about 15 minutes.
Drain in a colander, then return the potatoes to the pot.
Add butter, parsley, lemon zest, garlic, pepper and remaining salt to the potatoes.
Toss gently until they are coated with the parsley mixture.
Serve immediately.