Alia55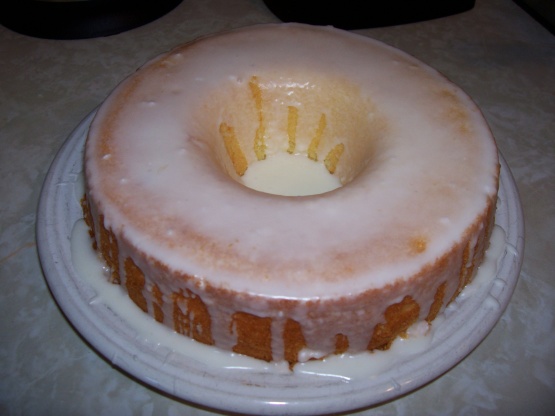 This is a delicious lemon cake. A favorite among friends and family!

It was OK but I guess I had expected more of this cake. Although there was a fair amount of lemon the taste did not come through. The cake was very crumbly, don't know why. Did not use the icing, we like cakes better without either frosting or icing. Again, I am sorry but this did not turn out as I had expected. Thanks for posting.
Preheat oven to 350 degrees F.
Butter, a 9 inch springform pan and then line the bottom of the pan with parchment paper. Set aside.
Cream the butter and sugar until light and fluffy and pale in color.
Add the eggs, one at a time, mixing well after each addition.
Beat in the vanilla extract and lemon zest.
Sift together the flour, baking powder and salt and then add to the batter along with the lemon juice.
Mix only until incorporated.
Pour the batter into the prepared pan, smoothing the top with a spatula.
Bake about 45 minutes, or until a toothpick inserted in the center comes out clean.
Place on a wire rack to cool, then gently remove the sides of the pan.
For the icing, combine the sifted confectioners' sugar with the 2 tablespoons lemon juice. Frost the top of the cake, allowing the icing to drip down the sides.
Let the icing set before covering.