Dorel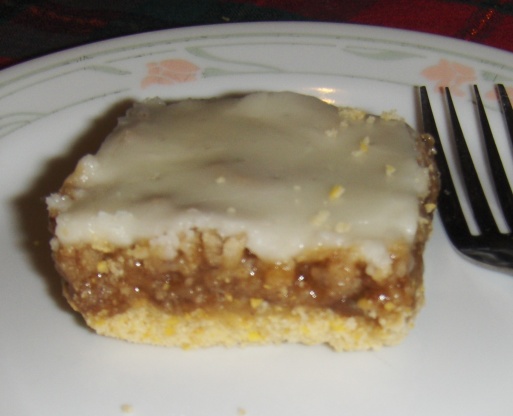 My family loves these bars. We like a lot of bottom crust. I doubled the original bottom crust recipe. If you think it's too thick you can half it.

I made this exactly as the recipe said, but no one in my family got overly excited by these. Served to a friend as well, and didn't get one "I love these" or "these are good" - just a polite thank you. I really wanted to like these. My filling didn't come out looking like yours did. Kind of tasted like a granola bar. Also, my frosting was scant at best - felt it needed more. Would be pretty with a bit of lemon zest sprinkled over the top.
In mixing bowl combine corn flake crumbs, 2 cups flour, 2/3 cup brown sugar and butter, mix well.
Press evenly into bottom of 13x9x2 inch pan.
Bake at 275° for 10 minutes, remove from oven, set aside, increase oven temperature to 350°.
In small bowl mix together 2 tablespoons flour and salt, set aside.
In mixing bowl combine eggs, 1 cup brown sugar, coconut and vanilla, add flour-salt mixture and nuts, mix well, spread over baked crust.
Return to oven and bake 20 minutes or until bars are lightly browned.
While bars are baking make the icing, combine 1 cup powdered sugar, 1 tablespoon melted butter and lemon juice, beat until smooth.
After bars are baked and still warm frost them.
Cool and cut into 36 bars.