Diana 2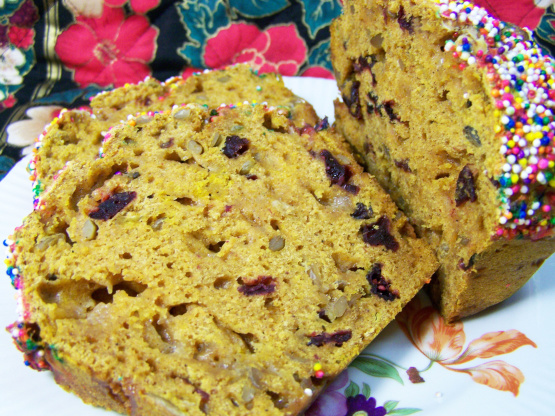 I love to give quick breads as gifts for the holidays and this one contains a lovely surprise!!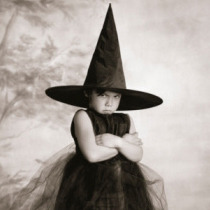 I'm sorry to say this didn't turn out quite as well as I had expected. It was a little dense and had that 'uncooked' feeling. I did bake in an extra long, shallow loaf pan, so am not sure if that would make the difference. After 1 hour of baking the wooden skewer tester did come out clean in several places, indicating it was done. After slicing, you could see where the vanilla chips had melted, so that may have been the cause....I'm only guessing on that though. I only had salted sunflower seeds, so thought it would be good to leave out the 1/4 tsp salt......turns out that wasn't a good idea. It needed the salt to enhance the flavour, and maybe even more than 1/4 tsp. Other than those small things, the only thing I altered was the mixing order. I mixed the sugar, milk, egg, vanilla and pumpkin. Then added the combined flour, soda and spices. After that I folded in the sunflower seeds, cranberries and white chocolate chips. Despite my disappointment, I do hope someone else will give this a try cause it could very well have been just a bad baking day on my part. Okay....I can't resist.....I have to comment on the sprinkles. lol While it gives the bread a festive look....they are a pain. lol Bouncing in the oven, on the counter, on the floor. I'm chuckling just thinking about it. You crack me up. I swear you put them there just to annoy me. I can hear you laughing.......LOL Thanks Acadia. lol Made for Winter 2011 Hidden Gems.
Preheat the oven to 350 degrees F.
Use pat of butter to grease a 9" x 9" square baking dish.
Mix the sugar, milk, flour, egg, baking soda, vanilla extract, salt, nutmeg, cinnamon, sunflower kernels, pumpkin, cranberries, and vanilla chips together in a bowl.
Pour mixture into greased baking dish.
Gently sprinkle sprinkles on top of dough mixture.
Bake quick bread for 60 minutes or until a toothpick inserted in the middle comes out clean.
Enjoy!