Korean Vegetable-Beef Stir Fry
ImPat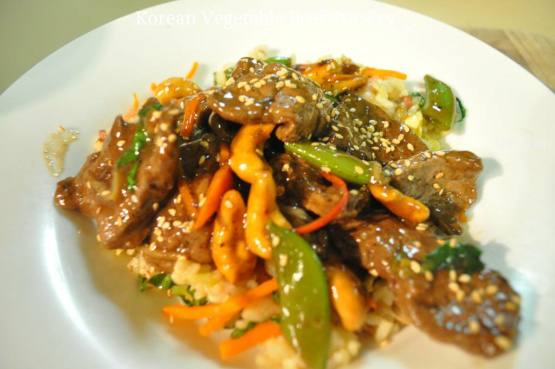 A mildly spicy stir-fry. Serve over hot rice. As suggested by several reviewers, the sauce can be doubled. Just double the marinade ingredients and the water and cornstarch.

YUM! Very good and spice can be adjusted for taste. (We inevitably added more red pepper as crazy Koreans!). Two tips: 1) We decreased the amt of sesame oil as we used the DARK asian kind (about half). 2) I par-steamed the broccoli before adding it to the stirfry so the other veggies would remain crisp. 3) I doubled the sauce to cover the veggies more, and it was great over rice/noodles!
Slice beef across the grain into bite-size strips. (If beef is partially frozen it is easier to slice).
Combine green onions, soy sauce, garlic, sesame oil, sesame seed, red pepper flakes, sugar and pepper; add meat and marinate 30 minutes at room temperature.
Drain meat, reserving marinade.
Dissolve cornstarch in water and add to reserved marinade, mixing well.
Preheat wok or large skillet over high heat; add 1 tablespoon oil, then add carrots and stir fry 3 minutes. Add broccoli and cauliflower slices and stir-fry 2 minutes (until vegetables are crisp-tender). Remove vegetables and keep warm.
Add remaining oil to pan.
Add half the beef to hot pan and stir-fry 2-3 minutes (until brown). Remove beef and stir-fry remaining meat. Return all meat to pan.
Stir marinade a little and pour into skillet or wok. Cook and stir until thickened and bubbly. Stir in the vegies. Cover and cook 1 minute.
Serve over hot rice.