teresas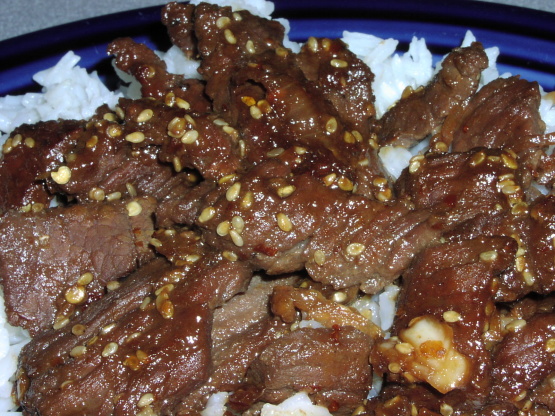 This is a very good recipe, served with kim chee and rice! Times do not include marinating time. I mix it together before work, it seems to be plenty of time. I usually serve it with rice or use it to make an 'Oriental' salad.

Great flavors, salty, sweet, heat. Subbed siracha sauce for the pepper flakes. Grilled the steaks.
In a large bowl, stir together the soy sauce, sugar, sesame seeds, sesame oil, shallots, garlic, mirin and crushed red chili peppers. Add the meat, and stir to coat. Cover and refrigerate for 12 to 24 hours.
Remove meat and toss marinade.
Heat a large skillet over medium heat. Fry the meat for 5 to 10 minutes, or until no longer pink.
UPDATE: this also worked well on a grill!