Kofte & Chorizo Stew (Moroccan)
NickiMoz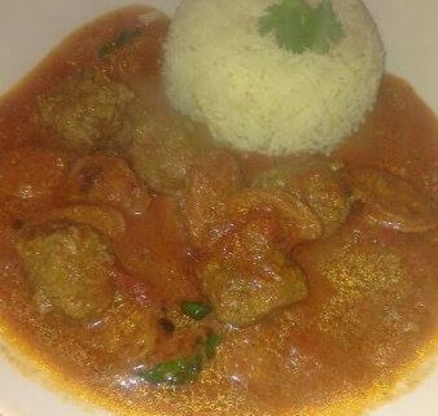 A tasty Moroccan casserole/stew, perfect served with fluffy, garlic buttered rice (see my other recipes)
Top Review by Amy S
Has a spicy kick to it. I followed the recipe with a few subs i.e. used swedish vegetarian meatballs from Ikea, Soyrizo and it tasted good, though the spicyness may mask the flavor. Maybe I should have used some of the ingredients from the meatballs, for example the cilantro, onions and spices to impart more flavor. Overall, a very good recipe.
To make the Kefta (meatballs): Add the mince to a bowl and kneed through. Then add onion, chilli, spices and the chopped coriander leaves, mix together well.
Add the egg and season well, then combine everything with clean hands.
Form into small meatballs, any size you prefer but about an inch works well.
To make the stew: Fry the meatballs and chopped chorizo in a large frying pan with a little oil until browned all over (you may need to do this in batches). Scoop out and set aside.
Add the harissa paste to the pan and cook for a minute.
Add the tomatoes and chicken stock then stir in the cinnamon. Simmer for about 15 minutes.
Now you can return the meatballs and chorizo to the pan and simmer everything for another 20 minutes, until cooked.
Stir through the rest of the coriander to finish.
The sauce should thicken slightly once served.