Kittencal's Crispy Coating Mix for Moist Oven Baked Chicken
Calee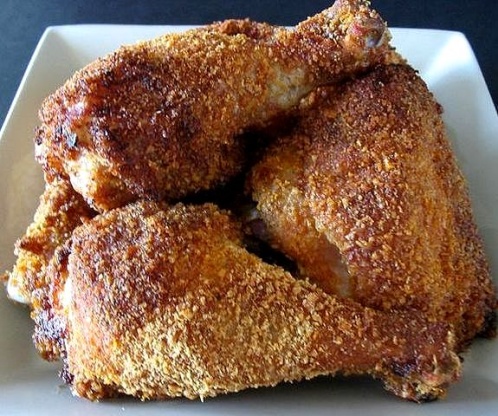 I developed this coating recipe years ago, it makes the most wonderful crispy moist oven-baked chicken you will ever have, I always serve this chicken with Kittencal's Easy No-Fail Make Anytime Turkey Gravy on the side to drizzle over the chicken *SO* good! Make certain to purchase and use only the already crushed boxed cornflake crumbs for this, and use only Shake and Bake Southern Fried flavor, I have tried many other flavors and brands and they are just not as good! The chicken will cook even more after you remove it from the oven and let it sit, so I like to bake mine for only about 40 minutes, and leave it on top of the stove until ready to serve, I find that it is even moister this way!

I had to try this recipe, I just wished that there was a 100 star rating, this would be in that class, so easy and the best chicken coating on this planet, and might I say the galaxy! what more can I say, well I will say, try this recipe to everyone, the juice from the cooked chicken just flows out when you take a bite, I was even eating the leftover crust that was in the pan, this is the best chicken coating..Thank you KITTENCAL!
3⁄4 cup chicken coating mix (use only Shake and Bake Southern Fried coating mix , 3/4 cup is exactly one package of mix)
1 1⁄2 cups corn flake crumbs (the ready-made boxed kind)

2

teaspoons seasoning salt (use only seasoning salt)

2

tablespoons garlic powder (use or less if desired)

1

tablespoon onion powder
1 1⁄2 teaspoons fresh ground black pepper

2

whole chickens, cut into pieces (about 3 1/2 pounds each)
Wash chicken pieces in cold water (leave the chicken moist so the coating will hold on to it) set aside.
In the plastic mixing bag that comes with the coating mix, combine all ingredients (except the chicken pieces) and shake bag to combine thoroughly.
Set oven to 425°F.
Set oven rack to lowest-bottom position.
Line a large 15-inch baking sheet with foil, and spray with non-stick cooking spray.
Shake each piece of chicken in the bag to coat thoroughly with mixture and place on the baking sheet.
Repeat with the remaining chicken pieces.
Bake for 45 minutes (you might have to bake for about 5 minutes more if the backs are attached to the legs).
*NOTE* Sometimes if you are using frozen defrosted chicken there might still be some water left in the chicken that will come out when baking, if you find that there is a lot of water in your pan about halfway through baking, just carefully remove the pan with a towel or oven mitts and hold over the sink to drain the water, and place back in the oven to bake (just enough to drain, careful not to remove the chicken from the pan and throw into the sink!).
The less water in the bottom of the pan the crispier you chicken will be).