Kitchenaid Kneaded Mostly Wheat Bread
TJfromFL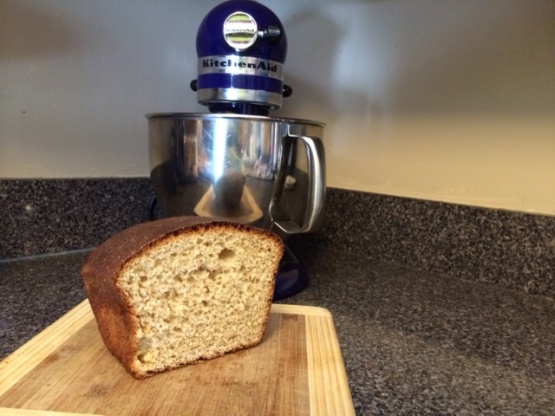 After a Doctor restriction from white bread for awhile, we came up with this alternative This is a 2/3 "white" wheat flour and 1/3 bread flour recipe to make the old Doctor happy. I find this more palatable than any store bought wheat bread I have tried and the texture is great. Honey replaces all sugar, and salt is cut down. Use low fat milk and a healthier oil and this will make old Doc happier. Plus, the Kitchenaid does all the work.
Add water, milk, honey, and oil to pot and warm to 120 degrees.
Remove from heat, add yeast to mixture, stir until dissolved, and let foam, up to 10 minutes.
In mixer, put in all flour and salt, leaving out just enough flour to very lightly flour your board.
Once yeast mixture has foamed, add to flour and mix using bread hook for one minute on power setting 1.
Move mixer to setting 2 and mix/knead another 9 minutes.
Remove dough from mixer, roll lightly on board to shape into a somewhat smooth ball.
Place dough in greased bowl, roll to coat, cover with plastic wrap and a towel, then set in warm place to rise until doubled (about 30 minutes).
Once doubled, punch down and transfer dough back to mixer. Knead with bread hook another 3 - 5 minutes.
Tightly roll loaf (look for directions on this site) and put in oiled bread pan.
Lightly cover with plastic wrap and napkin and let rise in warm place 30 to 45 minutes or as needed.
Put in preheated 375 degree oven (water bath optional) and bake 40 - 45 minutes.
Cool on rack immediatly.