Ken Hom's "dead Easy" Chicken
ImPat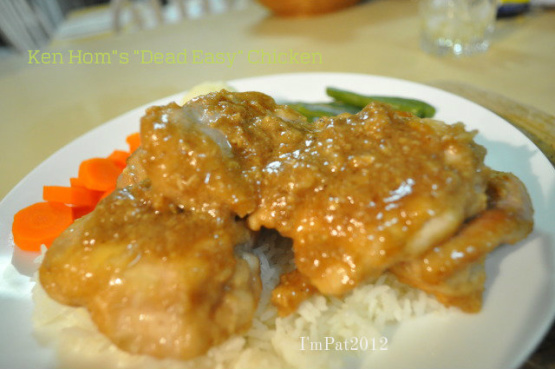 This is a great 'after work' recipe for 2 people. My husband and I like this over rice with some steamed broccoli. I found this Ken Hom recipe in the Chicago Tribune last year.

Top Review by ImPat
I really thought I would love this ricepe but it was good (the DM and DS devoured theirs) but there was something in the taste that left me puzzled and well thinking I have a beautiful piece of moist chicken but the taste is just not right (timing for the recipe is perfect).. Thank you Hey Jude for a recipe I will try again but with some tweeking to suit me, made for I Recommend on KateL's recommendation.
Remove as much fat as possible from chicken thighs. Place flour on a plate and roll chicken in flour, shaking off excess. Mix chicken broth, vinegar, five-spice powder, garlic, soy sauce and water together in a small bowl.
Heat oil in a wok or skillet over high heat until smoking. Brown chicken on all sides, about 2 minutes. Add sauce and lower heat to medium.
Simmer 25 minutes, turning chicken a few times. Liquid should be just at the bubbling stage. The sauce will boil down to a glaze. Serve over rice.