Tee Lee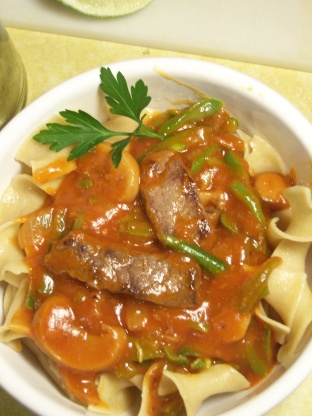 Sauced steak strips are combined with green beans, mushrooms and onions, then served over egg noodles. Serve with a salad and some garlic bread for a great meal. From an Easy Everyday Cooking recipe card.
Cut steaks into thin strips.
Heat 3 tablespoons butter in a large skillet over medium-high heat.
Add mushrooms and onion and saute about 2 minutes, until tender, then remove with a slotted spoon and set aside.
Add remaining butter to skillet, then add steak strips.
Saute for 5 minutes, stirring occasionally, or until strips are browned on all sides.
Add chili sauce, cover and simmer about 10 minutes or until meat is tender.
Blend flour with cold water and stir into skillet.
Cook, stirring continually, for about 5 minutes or until mixture comes to a boil.
Reduce heat and return mushrooms and onions to skillet.
Add green beans and mix well.
Cook about 2 minutes, or until beans are heated through (do not boil).
Serve over hot egg noodles.