diner524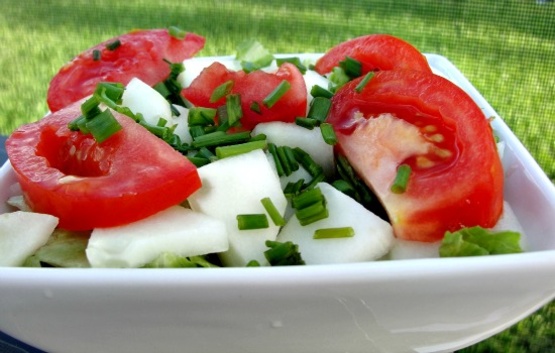 This recipe has been submitted for play in ZWT8 - India. This recipe was found on Indian Food Forever. This is a simple to prepare yet very delicious kachumber salad made from cucumber, onion and tomatoes. Please note: cooking time is chilling time. You do not have to chill this if you do not want to.

This was a very tasty simple salad...I just read in the chef's notes something about onion...no onion listed in the ingredients...those can only improve the flavor...what I really enjoyed about this salad was how fresh it was...it had a nice touch of flavor from the chili powder...although you can barely taste it...so don't add any extra or I believe it will become the dominate flavor. I used head lettuce cuz that's what I had but I think any kind would work...because of the head lettuce my salad lost a lot of color...so if using that I would suggest leaving the cucumber unpeeled...or...adding in finely chopped red onion...I also used cherry tomatoes cut in quarters...the lime added a nice citrus taste...thanks for posting this tasty recipe...:)
Mix all ingredients well in a bowl, chill until ready to serve.
Hope you will enjoy this simple, simple salad.