Jostlori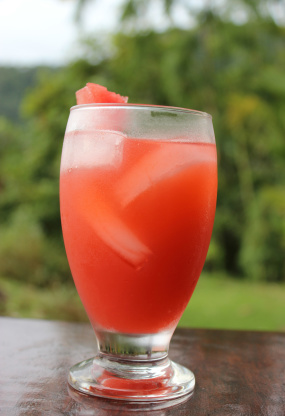 This is very good and really easy to make. People say it tastes like gummy bears. Make sure when you make this you are making it close to or in the sink.

Well, this was just ok - but it might not have been the fault of the recipe. Here in Costa Rica it's impossible to find Kool-Aid, and the local brands are all pre-sweetened with sugar or splenda. I used sugar-sweetened blackberry and passionfruit flavored "Kool-Aid". To compensate for the sweetness, I had to add quite a bit of lime juice and increased the vodka, too. It was tasty but not something I'd make again. On the plus side, the leftover blackberry/passionfruit powder made an excellent drink without the soda pop! Made for My Three Chefs 2013.
1 -2

liter Mountain Dew soda

2

(1/4 ounce) packets Kool-Aid (I prefer lemonade and black cherry)

1

pint vodka
Pour out the Mountain Dew until the liquid is at the top of the mountain dew label.
Add the kool aid, one packet at a time.
Be ready to put the cap on after you pour in a packet because it reacts with the mountain dew and will fizz up and make a mess.
After the kool aid is in and mixed up with the Mountain Dew pour the vodka in from the top of the label to close to the spout of the 2 liter bottle.
Serve Cold and drink responsibly.