Pepperoni Roll -Ups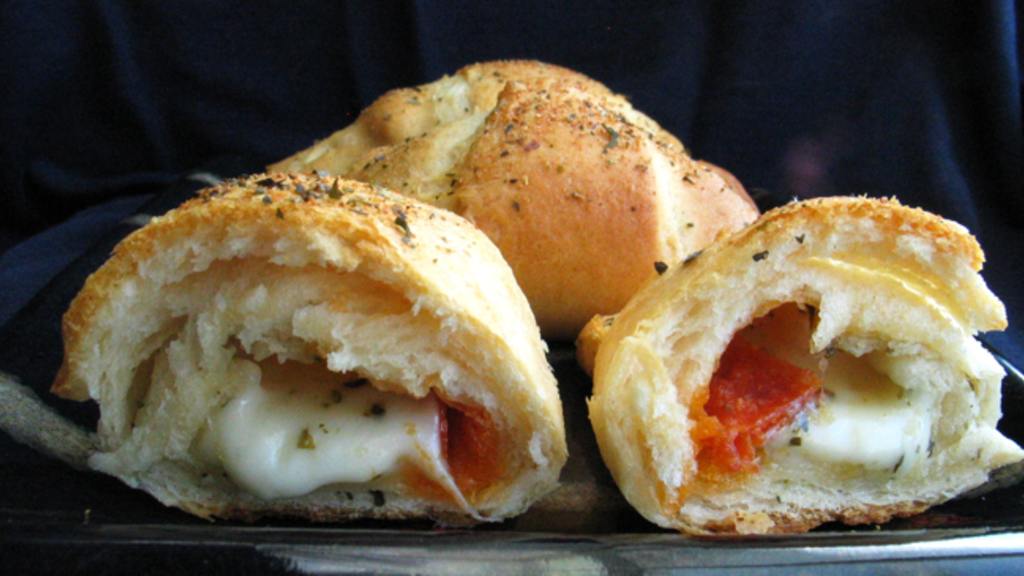 Ready In:

15mins

Ingredients:

5
ingredients
1

(8 ounce) package refrigerated crescent dinner rolls

16

slices pepperoni, cut into quarters

2

pieces mozzarella string cheese, cut into quarters
3⁄4

teaspoon italian seasoning, divided

1⁄4

teaspoon garlic salt
directions
Unroll crescent dough.
Separate into eight triangles.
Place eight pepperoni pieces on each.
Place a piece of cheese on the long side of each triangle.
Sprinkle with 1/2 teaspoon Italian seasoning.
Roll up each, starting with long side.
Pinch seams to seal.
Sprinkle with garlic salt and remaining Italian seasoning.
Place 2 inches apart on a greased baking sheet.
Bake at 375F for 10 to 12 minutes or until golden brown.
Join The Conversation
I spent some time in the Kingwood, West Virginia area more years ago than I care to remember, and the two most popular food items in Kingwood were buckwheat pancakes and peach cobbler. In fact they had a buckwheat pancake festival every year! The peach cobbler was also different. They put a biscuit in the bottom of a deep bowl, tossed in a bunch of peach slices, and filled the bowl with cream.

Pepperoni rolls are delicious! But they're a northern WV delicacy, probably from the Italian immigrants who settled there. Being from southern West Virginia, I'd have to say the favorite dish is brown beans (cooked with pork or bacon) and cornbread. Chopped onions on top or even ramps! A hearty, inexpensive but wonderful meal! Pass the ketchup, please!

To make true WV Pepperoni rolls easy, buy frozen bread dough. Thaw it and divide one loaf into about a dozen pieces (to get it equal: flatten, cut in half, cut each piece in half, keep doing until you have 12 pieces of equal size dough.) You can either use slices(about 7 or 8 slices) or buy a whole stick and cut into 3 inch pieces, then quarter. Form each piece of dough around each stick and pinch to seal -pinch well so they don't come apart. If you are using the slices, keep them together fanned out like they are when they are in a flat package and still form dough around it and again, pinch well. Let rise again in warm place, spray rolls with Pam (butter) spray or generic brand, cover with plastic or wax paper. After double in size, Bake at 350 for 20 - 25 minutes (watch for golden brown.) If you like mozzarella cheese and/or pizza sauce add it after they are baked. Slice down the top like a hot dog bun and put in pizza sauce (tablespoon or so) and shredded or chunk of mozzarella and heat either in oven (foil wrapped for 10 mins 350) or cover with paper towel and heat for 25 SECONDS. (increase in 5 sec increments if not warm enough or until cheese melts.) You can also use a bread machine roll recipe and make dough and make the same way. These are the TRUE Pepperoni Rolls enjoyed in West Virginia (lived their 12 years, and my mothers family is from there.)

I visited West Virginia and had several Pepperoni Rolls. I was excited to see the recipe, followed by disappointment. Pepperoni Rolls from West Virginia are to die for. So Yummy, and obviously made with bread dough. It's a shame they didn't pick an authentic West Virginia recipe for West Virginia's choice.