Judy's Grilled Flank Steak
fish2123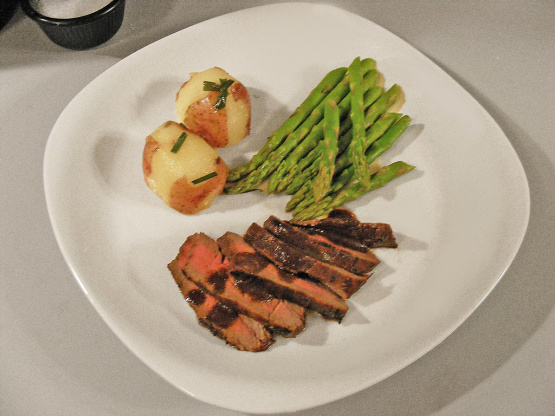 My family loves this steak--I rarely have leftovers. This steak goes well with baked potatoes and a spinach salad. I don't remember where I got the recipe, I've been making it for years and years. Prep time does not include marinating time.

Very nice flank steak Hey Jude, I scaled it down to half for the two of us but mainly because I had a small flank steak in the freezer, slightly less than a pound. The only other thing I did was to leave out the honey, (diabetic), other than that followed the recipe as written, it turned out lovely, we used the white wine and minced fresh ginger, love that taste. thanks for sharing.
Combine onion, garlic, white wine, soy sauce, honey, oil, Worcestershire sauce, ginger and pepper.
Stir until smooth.
Place steak in a shallow glass dish (or zip-loc bag).
Cover with the marinade, turning to make sure steak is covered.
Refrigerate, covered, at least 12 hours but no more than 24 hours.
Turn and baste often.
Drain steak well.
Place on broiler pan under preheated broiler, 6 inches from heat.
Broil 6 minutes per side for rare.
Transfer to a cutting board, let stand for 5 minutes.
Cut across the grain into thin slices.
Steak may also be grilled outdoors on a gas or charcoal grill.