Ms B.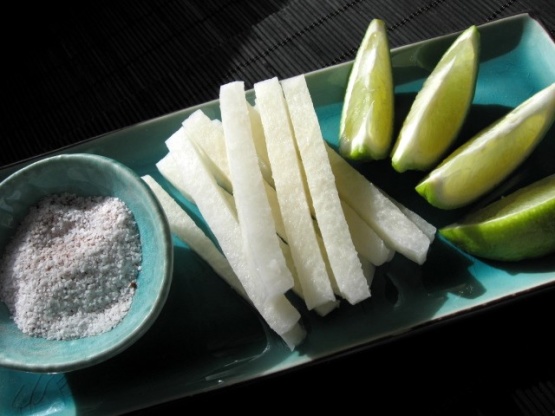 This is an adopted recipe that I have finally had the opportunity to try. The combination of the lime with the chili salt on the crisp jicama is really good. I used a chipotle chili pepper and found the ration of salt to heat to be just right. The original posted tried this at a sample table in Whole Foods Market.

Wow is right! Delicious! After seeing this recipe I headed to the Asian market in Philadelphia this morning and picked up some wonderful jicama. This stuff is addictive! I used a whole teaspoon of chili powder to the tablespoon of kosher salt. Mmm.. the cold and crunchy jicama with the lime juice and seasonings was very satisfying.
Mix salt with chili powder to taste. Place in a small, shallow bowl.
Peel jicama. Rinse and cut into 1/4-inch-thick wedges or 1/2-inch-thick sticks 3 to 4 inches long.
Cut limes into wedges. Arrange jicama, limes, and chili salt on a platter.
To eat, rub jicama with lime, and then dip in chili salt.
You can also toss the jicima with the ljuice of the two limes, then mix in spices and serve with toothpicks.