Bergy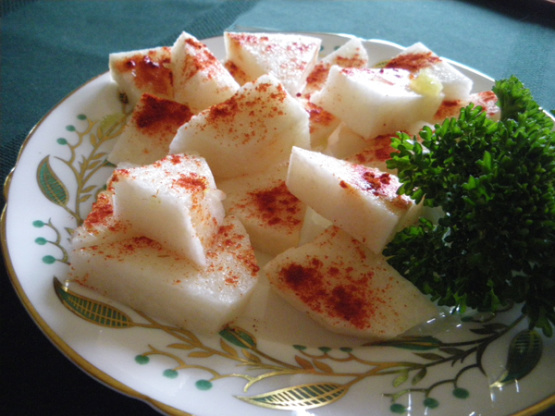 This recipe is a healthy, simple snack that combines crunchy,sour, and spicy. It's a great side dish to any mexican meal, too.

This was really good. i recieved 2 HUGE jicamas today in my Bountiful Baskets basket and needed something to use them in. I had to make another plate because my daughters and I devoured them before I could them in the frig. I used Chipotle chili powder and it was wonderful....I love chipotle anything! The lime added the right amount of sour and the sugar wasn't too much. We are having a BBQ for Memorial Day and I will have a plate of these on the table.......
Peel the jicama and slice it thin.
Arrange jicama on the serving plate, then squeeze on the lime juice.
Sprinkle on salt,chili powder,and sugar.
Chill in the fridge for 20 minutes, to blend the flavors.