PetsRus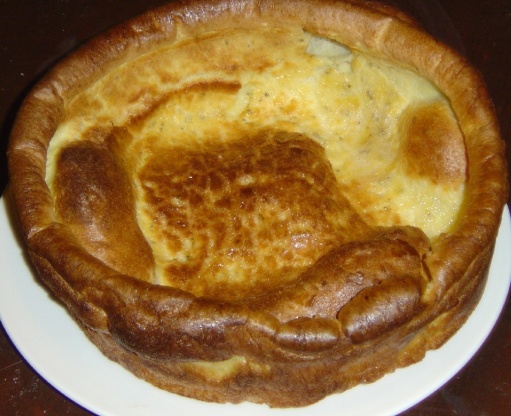 Our favorite accompaniment for our prime rib roast over the Christmas Holidays.

We had never had Yorkshire pudding before so we really didnt know what to expect. The overall consensus was that this was good. The puffed up beautifully and browned nicely then fell when I took them out of the oven. Not sure if that wasnt something I did wrong though.
One half hour before standing rib roast is done, prepare Yorkshire pudding batter. ( Mix all ingredient with hand mixer just until smooth.).
Heat 9x9" pan in oven with roast.
Remove roast from oven; spoon off drippings and add melted shortening to measure 1/2 cup.
Increase oven temperature to 425 degrees; return roast to oven.
Place hot drippings in heated square pan; pour in batter.
Bake for 10 minutes.
Remove roast; continue baking pudding 25-30 minutes longer.
Cut pudding into squares and serve.
To bake in a large 6 muffin pan: Preheat oven to 375°F.
Place pan in oven and heat for 10 minutes.
Place equal amounts of the drippings into each muffin mold and continue heating in oven for 10 to 15 minutes.
Pour equal amounts of prepared batter into each muffin mold and bake for 15 to 20 minutes or until golden brown.
Serve immediately.