Jayne's Sugar Free, Fat Free, Creamy Fruit Salad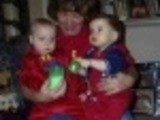 Wonderful taste, cool side dish, HEALTHY!!
Directions
In a large bowl combine the fruit and set aside.
In another bowl whisk milk, orange juice concentrate and pudding mix for 2 minutes or until smooth.
Add sour cream and mix well.
Fold mixture into fruit and cover and refrigerate until serving.
Reviews
Most Helpful
Awesome - easy - healthy! What else can you hope for. Oh yeah, quick! I love it and so do the grandchildren. I use fruits that are in season always remembering to include a dense textured fruit like apple - good substituti is pear. you can be creative with this one. This is also a good potluck dish.
This stuff if FABULOUS! I've made it for several pot-luck dinners and family gatherings and everyone raves about it every time. Thanks for posting this!
Easy and delicious. Definately a repeat. I added chopped pecans for contrast in color.