Jamie Oliver's World's Best Baked Onions
WeBees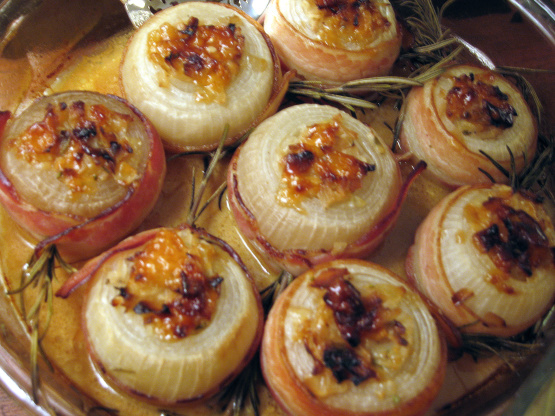 I found this recipe on The Splendid Table website. What I am posting here is an adaptation of the adaptation I found there of a recipe for Baked Onions from 'Happy Days with the Naked Chef' by Jamie Oliver. Sounds well-worth trying. Baked onions are a great accompaniment to roasts. To significantly reduce the fat content, use a low-fat or reduced fat cream.

I saw the programme when Jamie made these as part of Sunday lunch for pop band Jamiroquai,and made a mental note to try them one day.So I was pleased when I saw that BlueMoon had posted it. I also added some chopped bacon to the onion mixture,which was really lovely.I served this along side our Christmas roast,and it went down well.I would also recommend smaller onions,as I felt they were a little on the large side. A lovely dish,with good flavours,that looks great too.Thanks BlueMoon,I'll be doing this again.
Boil the onions in plenty of water for 15 minutes or until slightly tender.
Remove the onions from the pan and allow to cool.
With a sharp knife, remove the top inch of each onion, finely chop and place to one side.
Slightly trim the stalk end of the onions so that the onions will sit flat on a roasting tray.
Taking care to keep the outside of each onion intact, cut about a heaped tablespoon of onion out from the inside of each onion.
Finely chop these removed sections of the onion and add to the rest of the chopped onion.
Preheat the oven to 400°F.
Heat a saute pan and add a little olive oil, the garlic, the chopped onions, and just a little of the chopped rosemary.
Saute for a couple of minutes until the garlic and onion have softened, then turn the heat down, add the cream and remove the onions and garlic from the heat.
Stir in the Parmesan and season.
Wrap a slice of pancetta around the middle of each onion and spike it in place with a sharpened twig of rosemary or a wooden toothpick.
Place the onions on a roasting tray and spoon some of the chopped onion mixture inside each one.
Bake in the preheated oven for around 25 minutes until the onions are soft and tender.
How long this takes is, of course, dependent on the size of the onions. "It's cool to experiment with different cheeses, so give it a bash," says Jamie.
I presume he is suggesting topping the baked onions with cheese.
When the onions are cooked right through, remove and serve.