Jalapeno Jelly & Cream Cheese Spread
Pam-I-Am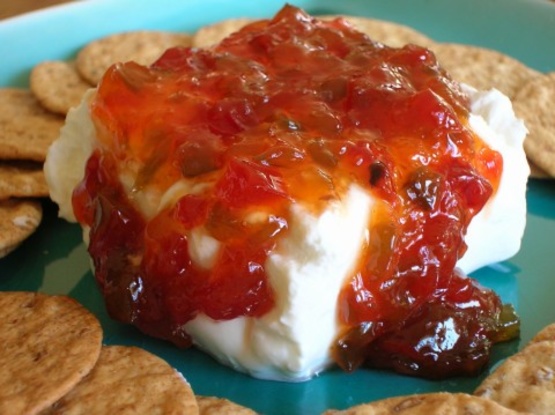 This is a classic appetizer that is great for last minute unexpected guests. In fact, I'm surprised it's not posted yet! I've made this for years. The sweet and hot taste on crackers is so wonderful!

I absolutely love this dip/spread! I first tried this method a few years back. I was in the grocery store next to the jalapeno jelly when two people were in the aisle talking about this appetizer of how yummy it was and that they would always take it to get-togethers. Me thinking it sounded a little weird, I thought I would go ahead and try it and picked up a thing of jalapeno jelly. I have been addicted to this since then! Its so creamy! And Im always in love with the sweet and spicy combos. This is great as an appetizer to take to parties. Or even better as a snack, that way you get it all to yourself! Club crackers are my favorite to eat with this. And I do like my cream cheese to be softened slightly but still have a chill on it. I tell people about this all the time and they think Im weird. But you cant knock it until you try it! Its so addicting!
1

(8 ounce) package cream cheese
2⁄3 cup jalapeno jelly (red or green)
cracker
Open the brick of cream cheese and place it on a plate.
Spread the jelly evenly over the top. Serve with a small knife for spreading or use a hearty cracker that will not break.