teresas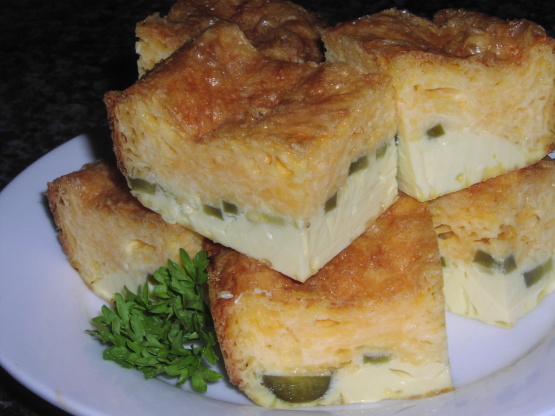 This dish is listed under Brunch recipes in the Edible Heirlooms Cookbook, but it could easily be served as an appetizer. Haven't tried it yet, but it sounds easy and tasty.

These things taste like quiche...I really enjoyed them but the hubby didn't care for them...I cut the recipe in half for just the two of us...but I can see making a huge batch and serve these at a potluck...they hold up great and would be easy to transport...I have some left and thinking of topping them with some sriracha sauce...made for "Whst's on the Menu" tag game...
Preheat oven to 350 degrees. Line the bottom of a 9-inch square baking pan, lightly coated with cooking spray, with a single layer of pickled jalapeno slices. Beat eggs in a medium bowl. Add both cheeses and mix well. Spread egg mixture over the top of the jalapeno slices. Bake about one hour. Cool 5-10 minutes before slicing into 2-inch squares.