Jacqueline's Chicken Enchiladas
Kit_Kat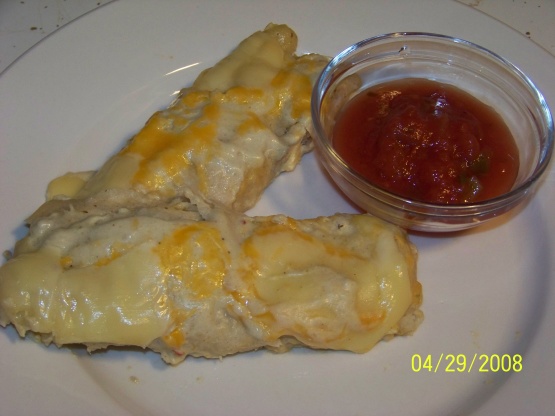 Not sure who Jacqueline is - but boy this is awesome.

These enchilada's are deliscious. I will definitely be adding this to my repertiore. I made it as written with the following changes/clarifications: I used a 9/13 inch pan. I only made 12 of the enchiladas, if making all 24 you will have to have 2- 9/13 pans, or a much bigger pan. For the spices I added 1/2 tsp of Oregano and 1/4 tsp of Cumin. I added 1 tsp Salt and 1/2 tsp Pepper to the water that the chicken was cooked in. I feated my cast iron skillet and brushed it w/ vegetable oil. After shredding the chicken I added about 1 cup of the green enchilada sauce, about 1 cup of the cheese, one can of diced green chilies and all of the onions I could skim out of the wather that the chicken was boiled in. For the sauce that is poured over the assembled enchiladas I added about 8 oz of sour cream -- too much. I ended up having to go out and get more green sauce to balance the sour cream to sauce ratio. I would say that 1/4-1/2 of a cup of sour cream would be more appropriate. Next time I might try to add some of the sour cream/enchilada sauce to the chicken mixture, just a thought. Prepared for P.A.C Spring 2008.
Place chicken breast in a large saucepan with rough chopped vegetables. Add enough water to cover and season with oregano, cumin, salt & pepper. Bring to boil, cover and reduce heat to simmer (about 30 minutes). Let cool.
Using fingers, chred cooled chicken into bowl, moisten with a little of the green chili sauce. Mix in some chopped white onion, green chilis and shredded cheese. Spoon mixture onto lightly fried tortillas, fold in half and place on baking dish. Top with enchilada sauce mixed with some sour cream. Then top with cheese. Bake at 350 degrees for about 20 - 30 minutes Serve with refried beans, spanish rice, salsa and chips and WOW.