Rita1652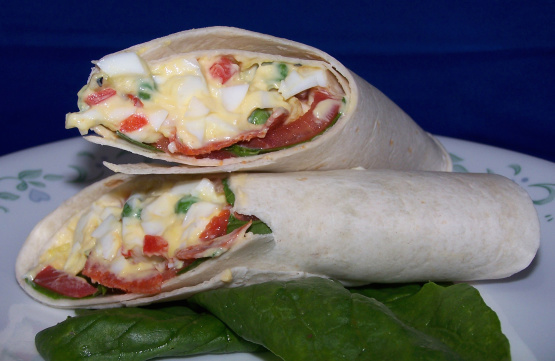 Egg salad dotted with peas, scallions, red bell peppers. Spiced with a creamy chipotle dressing. layered into a wrap with thinly sliced tomatoes, pepperoni and greens. All rolled up and enjoyed by all on the run or packed up for a picnic in the park.
I reeeally loved this salad. I didn't want to stop eating it, even though it made a lot. There were a few unexpected ingredients that went so well in here. Do not leave out the peas, they are great in here (who knew?). My favorite of the contest, hands down!
Place eggs in a pot covered with water. Bring to a boil cover and remove from heat. When cool remove shells and dice eggs. Place in a bowl with peas, scallions, red bell pepper, stir to combine.
Mix chipotle, garlic, mayonnaise, and yogurt. Toss into salad to coat all.
Place the 2 tortilla on a flat surface, top at end of tortilla with greens, tomatoes, pepperoni topping with egg salad.
Roll up and slice on a angle. Serve immediately or wrap in plastic for a summer lunch on the beach or in the park.