Italian Inspired Potatoes
Kim127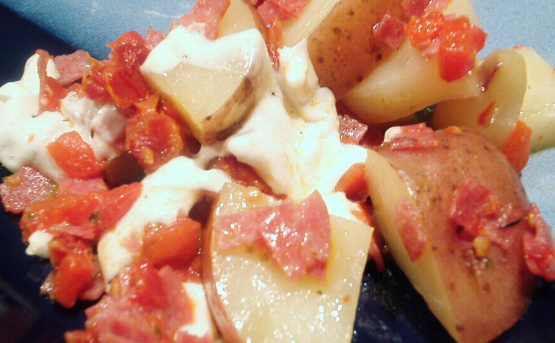 This was inspired by Chef Potpie's Couch Potatoes. I went to make it and thought it was missing tomatoes...I realized I had some sundried tomatoes and other flavorful add-ins and came up with this. It turned out very yummy. I love the tangy additions with the salami. To me this is a meal in itself! You could add onion to this also if you like. I might even try it with some capers next time. Hmm...and perhaps feta cheese instead of mozzarella with shredded chicken or no meat for greek potatoes! It's so fun to experiment. This could also be made in the oven or with leftover roasted potatoes or canned potatoes. Enjoy!

Top Review by TerriB
These were fantastically delicious! I actually didn't have any sundried tomatoes, but I did have some leftover spaghetti sauce (no meat). After the potatoes were cooked through in the microwave, I spread a thin layer of the sauce over them (like a pizza) and then sprinkled the rest of the ingredients. Threw the pan in the oven with my chicken that was almost finished baking. The taters browned up nicely, cheese melted, and they were so so yummy! Thank you thank you!
Place potato halves cut side up in a single layer in a microwavable dish that has a lid.
Put 1 tablespoon of water in the bottom of the dish. Sprinkle potato halves with garlic salt.
Cover and microwave on high 8-15 minutes (depending on your microwave) until tender.
Meanwhile, mix together the cheese, oregano, salami and sundried tomatoes.
When potatoes are done top them evenly with the cheese mixture.
Place one red bell pepper strip on each potato and arrange green olive rings around them.
Microwave for 1-2 minutes until the cheese is melted.
Serve with sour cream if desired.