Italian Fresh Prune Plum Bread
When fresh prune plums are in season, you won't find a better quick bread. You can freeze the second loaf.
Directions
Preheat the oven to 350°F
Lightly grease two 9 x 5 inch loaf pans.
In a large bowl, cream together the butter and sugar until light and fluffy. Add the eggs one at a time, and beat well after each addition. Add the orange rind and vanilla.
In a separate bowl, combine the flour, salt, cinnamon, cream of tartar and baking soda. Add the dry ingredients and sour cream alternately to the creamed mixture, beginning and ending with the dry ingredients.
Stir in the nuts and plums. Divide the batter between the two loaf pans.
Bake for 50 to 60 minutes, or until a toothpick inserted in the center comes out clean.
Let the pans cool on a rack for 10 minutes, then turn the loaves out of the pans and cool completely on the rack. Makes 2 loaves.
Lucy Waverman's Cooking School Cookbook.
Most Helpful
I used olive oil in place of butter. I also used previously frozen plums, which were very watery when thawed- next time I'll use fresh plums only. The bread was delicious, even so! Thanks, Olha [Made for Zaar Chef Alphabet Soup]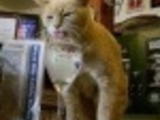 Yum! This was delicious! I made some into muffins for my sons school snacks, but had trouble not eating them all myself. Just got more prune plums to make more for freezing. I omitted the nuts though as I don't like crunchy bits in soft goods. :)
Has become a staple recipe and I usually make about 8 loaves at a time. I've experimented with quite a few fruit/nut combinations and the family seems to like blueberry/hazelnut and pineapple/macadamia as well as the original. Being somewhat impatient, I just made a batch using regular plums and it's delicious.