Boomette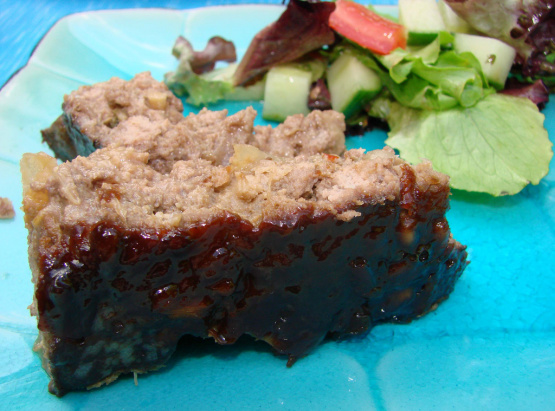 Meatloaf with pineapple, onions, ginger, and terriyaki! My DH loves meatloaf. I came up with this because I get so very bored cooking and eating the same things over and over. It is now a regularly requested meal and because of all the moisture from the pineapple/onion/buttermilk, you can use extra lean beef and still have a lovely meatloaf.
What a lovely switch from regular meatloaf! I baked it on a broiler pan on my bbq which I think was a mistake as it did make it a tad dry. I made the full recipe, but split it in two as I knew it would be too much for us. I cooked both, but then froze the 2nd half. We added extra terriyaki after just for the dryness (again I believe that was my own fault) and thoroughly enjoyed this meatloaf. I did only use half a jalapeno as the boys don't care for too much heat, but other than that tried to make it as close as I could with what I had on hand. Thanks for posting Kari! Made and enjoyed for Team Mischief Makers - ZWT#7, Pacific Islands :D
Preheat oven to 350*.
Saute onion, pepper, garlic, and ginger in oil over medium heat until vegetables are tender and onions are soewhat browned. (I do this in a nonstick skillet and so do not have to use the oil. Add 1 t soy sauce, red pepper and salt and pepper to taste. Set aside to allow to cool.
Drain pineapple really, really well. I usually put it in cheesecloth or an old clean tea towel and squeeze most of the juice out and then put it in a strainer to finish draining. You can reserve the juice for another use.
In a large bowl, combine, beef, onion mixture, pineapple, bread, egg, buttermilk, 2 T terriyaki, 2 t soy, 1 T brown sugar, 1 T hoisin and mix until just combined. Mixing longer will make a tougher meatloaf. Place into a greased loaf pan.
In a small bowl, combine ketchup, sweet chili sauce, hoisin, brown sugar and terriyaki glaze. Pour over meatloaf.
Bake for 1 hour to 1 hour 15 minutes at 350. The meatloaf will most likely pull away from the sides of the pan and there will be lots of juice around the edges, you can serve as sauce on rice or simply drain it away before eating.
Note: I sometimes put this together in the morning, stick it in the fridge and then set it out 30 minutes before baking.