Irresistible Chocolate "whatever" Cookies
chiclet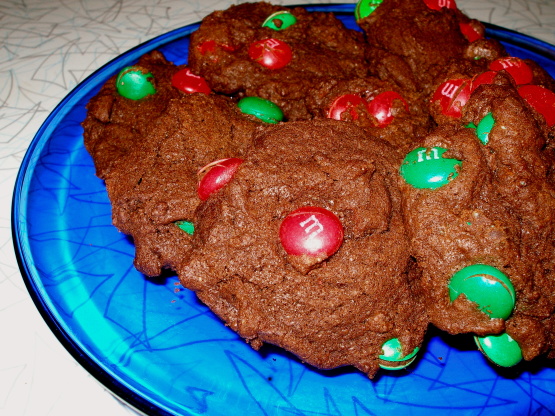 These cookies have a wonderful rich chocolate flavor. And the aroma! I had to beat my boyfriend and housemate away from the oven with a spatula while the cookies were baking.The "whatever" refers to the chips, nuts, candies you put in these cookies (I used holiday colored m&m's). This is adapted from a Hershey Kitchens recipe.
Preheat oven to 375°F.
In a large bowl, beat butter, sugars, vanilla and salt until creamy. Add eggs and beat well.
In a separate bowl, stir together cocoa, flour, and baking soda. Gradually add to butter mixture, beating until well blended (the dough will be quite thick).
Stir in whatever candies or nuts you are using.
Drop by rounded teaspoons onto an ungreased cookie sheet.
Bake 8-10 minutes, until set. Cool slightly before removing from cookie sheet to wire racks to cool completely.