twissis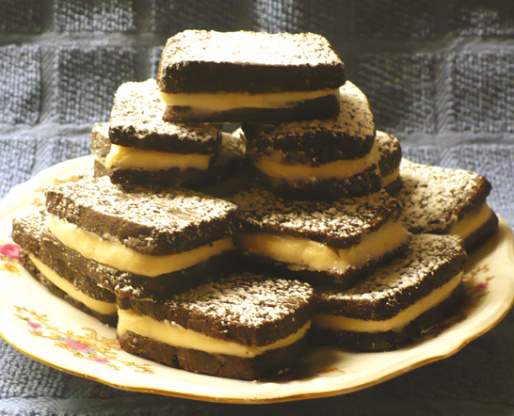 Chocolate slice and bake wafers filled with luscious homemade buttercream makes a delicious combination. Perfect for St. Patricks day treats. Found this recipe at Land O Lakes website. Prep time doesn't include chilling time.

Made for ZWT-8 to satisfy my "Cookie Monster" persona (a rep well-earned). So I have a question - Have you ever tried to make a "square log"? I frankly couldn't figure out how to do it w/o using a mold of some kind. I tried & it was very ugly, so you'll have to settle for the rectangles I finally managed to get using the sides of a refrigerator storage container as a mold. Other than that little detail, these to-die-for cookies were easy-to-fix & they're pretty too (even if I do say so myself). The amt of "Irish cream" (or coffee) is very sml, but if entirely kid-friendly is a goal - It might be fun to add green food colouring to the butter/powd sugar filling mixture. Thx for sharing this truly yummy recipe w/us. Gotta go now. I'm a "woman w/a mission" because it was definitely not a part of my plan for DH hide the cookies!
Combine 3/4 cup butter and sugar in large bowl. Beat at medium speed, scraping bowl often, until creamy. Add egg and vanilla; continue beating until well mixed. Reduce speed to low; add flour, cocoa and salt. Beat until well mixed.
Divide dough in half; shape each half on lightly floured surface into 8-inch long square log with 1 1/2-inch sides. Wrap in plastic food wrap; refrigerate until firm (2 hours or overnight).
Heat oven to 325°F Cut logs into 1/4-inch square slices with sharp knife. Place squares 1 inch apart onto ungreased cookie sheets. Bake for 6 to 8 minutes or until set.
Combine powdered sugar and 1/4 cup butter in small bowl. Beat at low speed, adding enough liqueur for desired spreading consistency. Spread about 1 teaspoon filling on cookie, top with second cookie. Press together gently. Sprinkle with powdered sugar, if desired.
Make Ahead: Prepare cookies as directed; cool completely. Freeze in airtight container up to 1 month. When ready to use, thaw cookies completely. Prepare filling and assemble cookie sandwiches as directed.
Recipe Tip
Make sure not to slice the cookie dough too thick or the cookies will not be crisp.