Parsley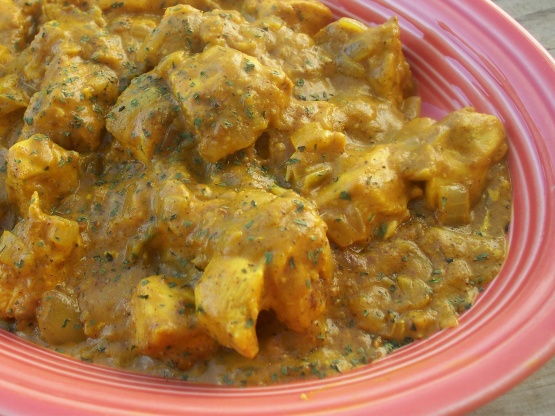 This was on a recipe card I found in my recipe cabinet. I tweaked it a little, so I'll post it the way I made it. It is spicey, and great on these awful cold nights!
Delicious! I used 2 (largish) chicken breasts and made a full recipe of the sauce. I ran out of ginger and cayenne (so only added 1/2 the amount) and realized after that my coconut milk was 400 ml. Since we like spicy, I added in a little over a tsp of sambal oeleak to make up for the cayenne. I also had to sub lemon grass flakes for the lemon zest. I was too lazy, so didn't take the chicken out to brown, just simmered on the stove until it was done. Despite all my changes, it turned out great! Had quite a bite--not too much, but enough to have a pleasant burn in my mouth! Served with peas and jasmine rice.
Combine turmeric, salt, ginger, pepper, cayenne, peanut butter, coriander, and water. Mix to a paste.
Sauté onions & garlic in a little olive oil until tender. Add the peanut butter paste, sauté 2 minutes.
Remove from heat. Combine well with chicken. Refrigerate in a covered bowl for at least 1 hour. (I left mine overnight, and the flavors were awesome).
In a large pan, bring the coconut to the boil. Add chicken pieces, paste, and lemon rind. Stir until all combined. Reduce the heat and simmer for 20 minutes.
Remove the chicken pieces from the pan, and place under the grill until browned. Spoon remaining sauce over the chicken to serve.
We served this with a garden salad, but next time I'm thinking of cutting the chicken smaller, and stirring some Singapore noodles through.