teresas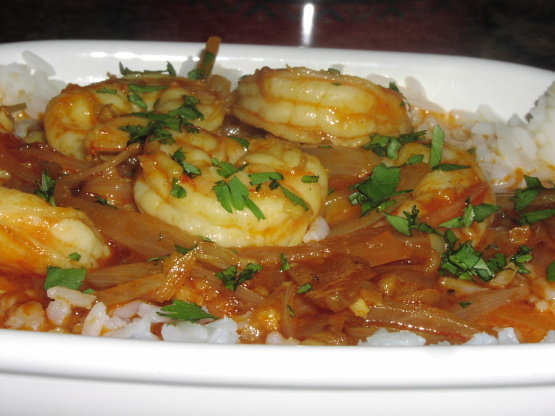 Modified from HuffPost Taste -- Serve with flat bread like Naan or Pita, or with white rice and steamed vegetables.

This Indian-spiced shrimp is wonderful and so easy to put together. Wish I had made a double-batch. : ) I am so thankful that I have access to plenty of fresh wild-caught shrimp where I live as I will be making this dish often. Served this dish with http://www.food.com/recipe/dal-nirvana-naan-493936 and a green salad. Made for the Best of 2014 tag game.
Marinate shrimp in 1 1/2 T olive oil, curry powder, cumin, minced ginger, minced garlic, cayenne, and salt for 1/2 hour.
Saute shallots in oil, in a heavy skillet over medium heat, stirring frequently, for about 2 minutes.
Stir in tomato paste, water, and brown sugar. Bring to a simmer.
Add shrimp mixture and cook until shrimp are just cooked through, 3-4 minutes.
Sprinkle with cilantro, and serve with lemon or lime wedges and flat bread, or over rice.