Indian Roasted Cauliflower
K9 Owned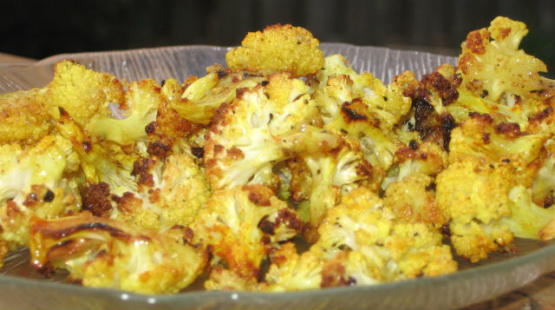 Such a simple dish with only 3 ingredients excluding salt and pepper. Can't wait to try this dish.

I was searching for a simple Indian recipe for cauliflower, and picked this due to its simplicity. We loved it! But we did add quite a bit more turmeric (I may have doubled it) and also added a teaspoon of Muchi Curry (a powdered spice that you can buy at Whole Foods, which has cayenne pepper) and an onion to the cauliflower. I also cut the cauliflower larger than 1/4 inch florets (maybe that's an error?) But what a wonderful simple dish, thanks for sharing!
Preheat the oven to 400 degrees. Drizzle 1 tablespoon of the oil onto a baking sheet. Sprinkle on the turmeric. Spread the cauliflower on the pan in one layer. Drizzle with the remaining oil. Add the salt and several grinds of pepper. Mix with your hands to coat the florets.
Roast for 20 minutes. Stir the cauliflower, roast 5 minutes and stir again. Continue roasting until the cauliflower is almost soft and some tips are dark brown, about 5 minutes longer. Cool the cauliflower on the pan. Serve warm or at room temperature.