Dav59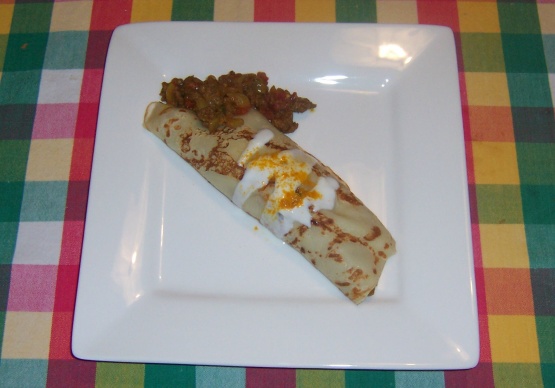 I first got hooked on savory crepes when I visited France for the first time many years ago. Since then I have filled my crepes with just about everything. I hope you like these as much as I do.

Top Review by Barb R
Well, my crepes were a disaster, but that had nothing to do with this recipe. The spices, tomato and ground beef go fantastically together. I used Serrano chiles, but other than that, followed the recipe to the letter and I will certainly be making it again. Thank you Hagt!
Fry chopped onions in oil until they are soft. Add chopped garlic, jalapeno, ginger and spices. I usually use a 1 x 1 inch piece of ginger. Fry for a couple of minutes. If the mix sticks to the pan, add a few tablespoons of water. Add the meat and fry until the meat is nicely browned.
Add the can of tomatoes to the meat mix and let it simmer, covered, for 20 - 30 minutes.
Add the yogurt and let it simmer, uncovered, for about 10 minute more.
Taste and add salt according to your taste.
Use your favorite recipe and make crepes. The filling is enough to fill 6 crepes.
Fill the crepe, roll it up and place on dinner plate. Drizzle with a little bit of yogurt and sprinkle a dash of turmeric on top.