Indian Fry Bread - Midwest
Chemaine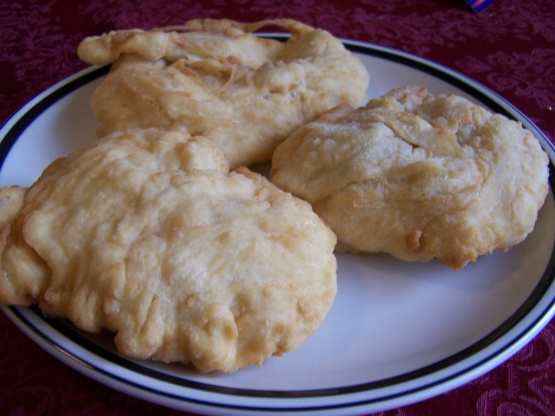 Southwest fry bread is flat, growing up in the midwest we used to have soup with fry bread that had nooks and crannys that butter, honey and jelly pooled into. So far this is the best recipe to mimick that fry bread we had at school.

Excellent taste. I experimented with adding raisins in one batch, jalapenos to another, diced apples to a third, and honey to a fourth. All were very good. One correction to the recipe, though, 2 1/2 cups of water is way too much, but you will find that out as soon as you get started.
Mix flour, baking powder & salt. Gradually stir in oil & water to make a soft dough.
Stir until dough is smooth & shiny. Cover, set aside 30 minutes.
Shape dough into 16 balls the size of an egg. Roll out on lightly floured board 1/2 inch thick.
Heat oil 3 inches deep until hot. Fry dough one at a time, turning with a fork until puffy & golden brown.
Drain on paper towels.