Impossible Pumpkin Pie Cupcakes
Sandy T.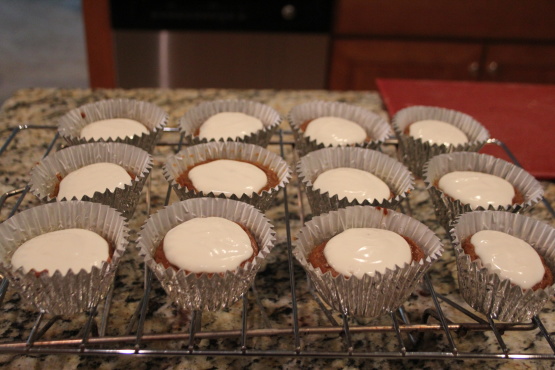 This recipe is from bakingbites.com, an incredible baking site. Everyone who likes to bake--or even likes to looked at pictures of baked food--needs to be there. In the original recipe, it calls for half-and-half or evaporated milk. I have put in nonfat evaporated milk so that I can get a calorie count per cupcake. I will probably increase the spice next time. The sweetness is perfect, not cloying like too many recipes.

i loved these! They are like miniature pumpkin pies w/o the crust. They are super moist. They do look a little scary after they're cooked; but, once they're topped w/ whip cream, they look impressive. Thanks for a quick, simple alternative to making a pie. I used recipe #37298 for the pumpkin pie spice.
Preheat the oven to 350°F Line a 12-cup muffin tin with paper or silicone liners.
In a medium bowl, whisk together all of the dry things.
In a large bowl, whisk together the wet things. Add in dry ingredients and whisk until no streaks of flour remain and batter is smooth.
Fill each muffin cup with approximately 1/3 cup of batter.
Bake for 20 minutes. Cool cupcakes in pan. They will sink as they cool.
Chill cupcakes before serving. Top with lightly sweetened whipped cream. If desired, sprinkle a little spice over the white cream for a pretty contrast.