Imam Baildi Aka Stuffed Eggplant (Aubergine)
Zurie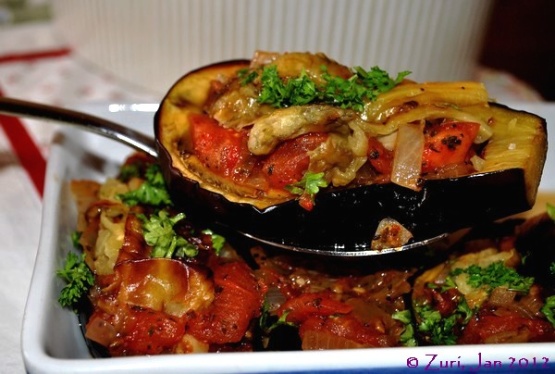 The mediteranean deli down the street makes the most awesome eggplant. After asking for help on the boards, I finally discovered its Turkish and/or Greek name. This recipe is from El Cafe Griego - it sounds the closest to all I've looked at. I can't wait to try it.

Top Review by Zurie
I've made variations of this dish before, but I so liked the simplicity of yours! I am sorry if the photos do not look exactly like you described it: I did not have Japanese eggplants, and stupid me cut the eggplants in half, THEN came to Food.com for a recipe! I did not add the 1/2 cup water, as fresh tomatoes tend to be watery anyway. In fact, I pressed out some of the juice. It cooked beautifully, and thanks for the teaspoon sugar -- cooked tomatoes, fresh or canned, need a touch of sugar! I think the title should be "Imam Bayildi", but as the previous reviewer said, this is not quite the same. Anyway, it's a lovely side dish and very tasty. Thanks!!
Preheat oven to 350°.
Cut ends off the eggplants/aubergines.
Make an opening for the stuffing by using a sharp knife and slicing the eggplant from the stem end down to the other, make sure that you don't cut them all the way through.
In a skillet, heat 4 tablespoons of olive oil over a medium heat.
Fry the eggplant gently.
If needed, you can add some more oil in the frying pan.
Remove the eggplant from the skillet and place in an 8"x8" baking dish.
Sprinkle with salt and pepper.
Add the remainder of the olive oil to the same skillet.
Sautee the onions and garlic in it until they are slightly golden being careful to not burn the garlic.
You want the vegetables soft.
Add the fresh tomatoes and half a cupful of water to the skillet.
Add the oregano, sugar, more salt and pepper.
Simmer covered, for 15 minutes.
Remove stuffing from heat.
Fill the eggplants with this stuffing.
They will be slightly open as they don't need to be closed back over the stuffing mixture so be very generous.
Bake for 4O minutes; basting them at least once.