Redsie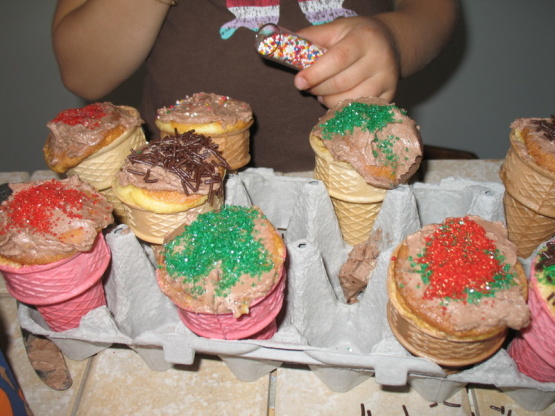 From Ricardo magazine. Perfect for a children party! Made them at home and brought them to my niece and nephew so they could decorate them - fun! fun! fun!

These won't win any taste competitions, but it didn't matter. The kids thought they were delicious and had a great time. We made a batch and brought them with us visiting - it gave the kids something to do. We slapped on some icing and they got to choose from the myriad of sprinkles available. A huge huge huge HIT!
Conecakes:.
With the rack in the middle position, preheat the oven to 350°F.
In a bowl, combine the flour, baking powder and half the sugar.
In another bowl, beat the egg whites with an electric mixer until soft peaks form. Sprinkle with the remaining sugar and beat until stiff peaks form. Set aside.
Make a well in the dry ingredients and add the egg yolks, oil, vanilla and milk. Mix well with an electric mixer. Using a spatula, fold in the beaten egg whites.
Pour the batter into the cones, filling to the rim. Arrange the cones on a baking sheet. Bake until a toothpick inserted in the centre of a cupcake comes out clean, about 20 minutes.
Let cool before icing.
Icing:.
In a bowl, use an electric mixer to beat the butter, icing sugar, milk and vanilla until creamy. Mix 1/3 of the icing with cocoa powder until chocolate-coloured, 1/3 with red food colouring until strawberry-coloured and leave 1/3 white (vanilla coloured). Ice the cupcakes.