sbowl1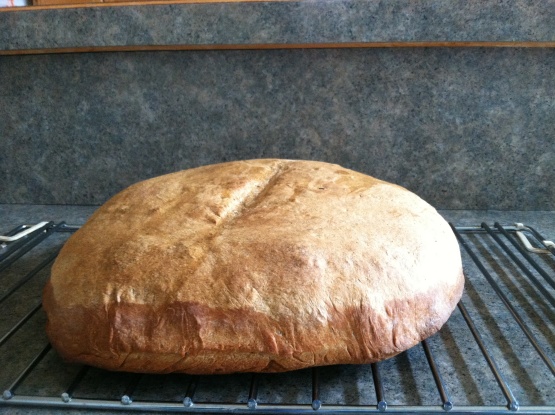 This is a traditional Hungarian bread with a hard, crispy crust. It takes some time to prepare, but is very cheap and very appreciated. It won't keep for long, since the dough doesn't contain any fat, but the problem seldom arises, since it will be gone in no time. The recipe is from the Swedish magazine "Allt Om Mat".

I have been searching for this recipe for a very long time! Tastes just like my grandmothers, who was from Hungary and didn't write her recipes down. Thank you so very much for sharing it! It is perfect.
Dissolve yeast in water (if using dry yeast, follow instructions).
Add most of the flour and the salt.
Knead vigorously by hand for 5-10 minutes.
Let rise, covered, to double size (1-2 hours).
Heat the oven to 450 deg F/ 230 deg C.
Knead again, vigorously, for 5 minutes.
Shape one big, round loaf and put on a greased baking tray.
Cover and let rise for another 45 minutes.
Make a few cuts in the loaf with a razorblade.
Bake in the oven for 10 minutes.
Reduce heat to 400/200 deg and bake another one hour.
The crust should become quite brown.
Turn off the oven, take out the bread, and brush the bread with water.
Put it back in the oven for 15 minutes.
Let cool uncovered.