Hubby's Low Fat Yummy Dried Berry Muffins
Nimz1466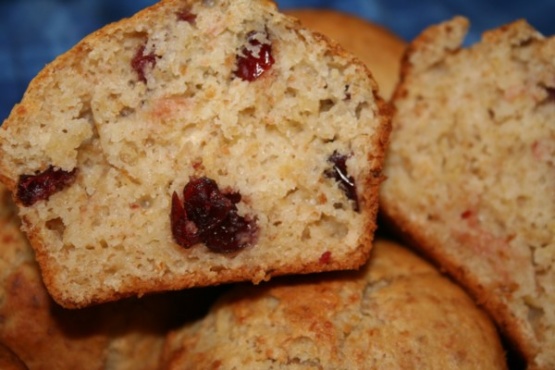 My husband has started creating his own wonderful low-fat recipes and this one is delish! Fabulous for breakfast. He actually uses just shy of 1/4 cup of applesauce, but I couldn't figure out how to note that!

These were quite tasty! I used dried cranberries, and some pecans. Also added a bit of cinnamon. Thanks!
Preheat your oven to 400 degrees.
In a bowl mix the milk, the egg, the applesauce, the oil, and the vanilla.
Mix well and set aside.
In another bowl combine the flour, wheat germ, baking powder, and salt.
Add the wet to the dry, mixing just until combined.
Add the dried berries and just mix until combined.
Bake at 400 degrees for 20-25 minutes or until brown.