flower7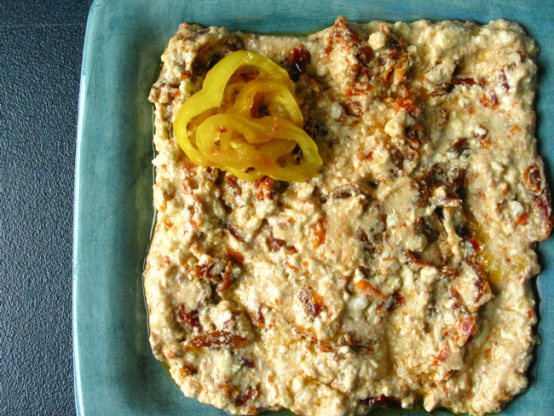 "Kopanisti" is the baked "Htipiti" processed with a fork instead of a food processor. - This is the answer I got from my Greek friend, as I was trying to duplicate Htipiti and the recipe I found just didn't taste quite the same. So, try this if you are looking for Authentic Greek Htipiti, instructions came straight from a Greek!

Yummmm! This is super tasty, simple and fast! I halved the recipe as I only had a 7oz pkg of feta (a super good one made from sheep's milk; I used the other 3oz in your recipe #399679 ). I used the oven as I do not have a grill. The lemon juice and garlic are a must in my opinion :) I did not have whole pepperoncini so used rings and ate them along with the dip (I love those things!) Also wasn't clear what to do with the olive oil so I just drizzled some over the dip before baking (not as much as called for however). Thanks for sharing! [Made for Spring 2013 Pick A Chef]
Place feta cheese, garlic, tomatoes on a foil tray (if roasting on grill) or in a ceramic pot or pan if cooking in the oven. Lay pepperocini on top of other ingredients, do not mix yet (pepperocini will be removed after cooking).
Roast for about 10 minutes over low coals, or about 10 mins in a 350 degree oven. Feta will look "runny" or "watery" when the correct doneness.
Remove from oven or coals, remove pepperocini. If roasted over coals, place in bowl to mix.
With a FORK (do not use food processor) mix the rest of the ingredients together, slightly smashing the feta as you go.You may remove some of the tomatoes if desired, depending on taste. You can also choose to chop (very fine) the pepperocini (remove stems and seeds) and add it back to your dip (I do this as I like it spicy!).
Spread on plate, let cool slightly before serving. Can be garnished with Kalamata olives before serving if desired.
Serve with Pita Bread, crusty French Bread or also good with bagels!
Although not ideal, leftovers (if you have any!) can be stored in refrigerator and warmed in microwave slightly before serving.