Iceland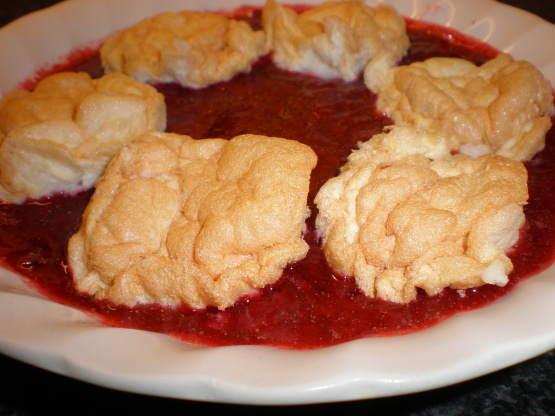 I like this pavlova recipe because its easy and fast to make. I adapted it from 'Food in a Minute' website recipe of same name. I've made it 3 times and each time its come out perfectly - whether 1 big dessert or 6 small individual ones. On the website recipe, they make a boysenberry sauce to go with it. I've only ever served fresh kiwifruit or berry fruit and whipped cream with mine - this is the traditional kiwi way.
Put the egg whites, caster sugar, cream of tartar (if using), vanilla essence, vinegar and cornflour into a large bowl, begin to beat on low speed. Increase the speed to maximum, adding the boiling water slowly and continue beating for approximately 10 minutes until the mixture is thick stiff and glossy.
Mould the mixture into 6 x 9cm rounds on a baking paper-lined baking tray.
Place into 180 deg C oven and lower the temperature immediately to 120 deg C for 30 minutes. Turn the oven off and allow them to sit in oven with door completely closed for at least 6 hours.
Notes: when you spoon mixture onto tray, make small hollows in centre to sit cream/fruit into once baked.
I've also made this as one big pavlova with great results.
Never store an uncreamed pavlova in the fridge. They will keep in a tightly sealed container at room temperature, or individually wrapped, for up to a week if your house is not humid.
Creamed pavlova leftovers can be stored in the fridge for up to 2 days.