Hot Stuff! Cypriot Stuffed Aubergines and Minty Cumin Yoghurt
Rita1652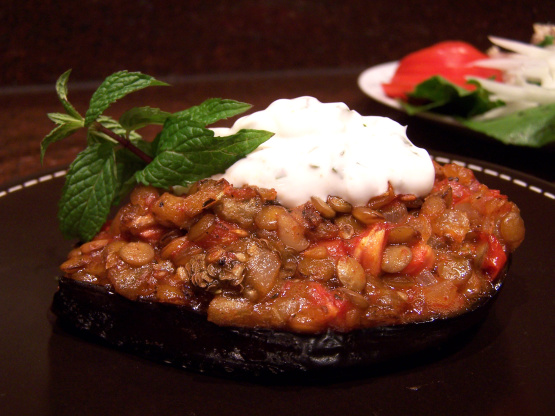 Not for the faint hearted, these SPICY aubergines are stuffed with lentils, making them a wonderful vegetarian main meal or appetiser. You can add minced meat (ground beef) if you wish, but I find that the Puy Lentils used in this dish have quite enough "body" already! These are based on a Turkish recipe called Imam Bayildi - but I have "pepped" them up a bit by adding Cayenne pepper, chili & the lentils! Do not forget the essential finishing touch - the minted cumin yoghurt, it "cuts" through the heat of the cayenne pepper. Serve these with a crispy salad and crusty bread.

Delish! I made for 2 using some of my last eggplant from the garden. they were small being it is Autumn. Also my very last red tomato went into this very deserving dish! The yogurt is a must. I did use my pepper flakes which include ghost and habanero chili`s. I did skip the tomato puree found no need for it. This did make a lot of filling. We ate 1/2 and can`t wait for tomorrow for the leftovers. Yummo! Merci.
Pre-heat oven to 250C/495F/Gas 9.
Grease a large oven to table dish - or a roasting dish with a little of the olive oil.
Rinse the lentils under cold running water. Drain and place in a saucepan with the water and garlic. Cover and simmer for 30 minutes. The consistency should be thick because this will be stuffed in the aubergines.
Cut the aubergines in half lengthways & bake them in the pre-heated oven for about 20 - 30 minutes. Leave them to cool and scoop out most of the flesh and keep it aside for stuffing, leaving an inch thick border to form a shell.
Whilst the aubergines are cooking, heat the olive oil in a frying pan, add the onions, tomatoes and fry gently for 5 minutes. Chop the scooped aubergine flesh and add to the pan with spices. Cook gently for another 5 minutes. Now add the lentils, tomato puree,all the spices & salt and pepper to taste.
Spoon the mixture into the shells. Bake for 15 to 20 minutes.
Make the minted cumin yoghurt whilst the aubergines are baking; add the cumin and mint to the yoghurt & mix well. Put it into an attractive dish and garnish with a sprig of fresh mint.
Serve the aubergines hot or cold, topped with the minted cumin yoghurt and an extra sprinkling of cayenne pepper if you need an extra "kick"!