Hot Pepper Jam for Bread Machine
Boomette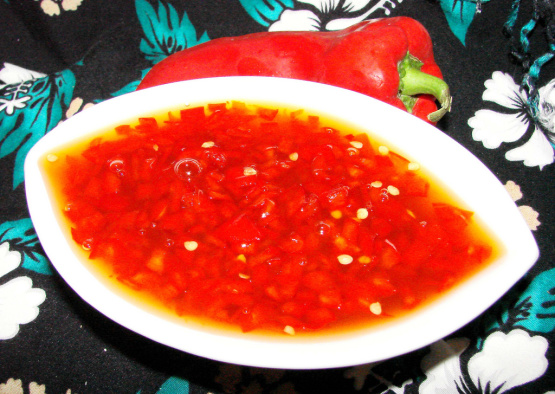 The bell peppers, can be any color you want, the chunks will still be there so you can choose your own color palette. Also, think a person could freeze it. Really good with Jalapeno Pepper Jelly Chicken. Because I value Chef#383346s opinion, I have reduced the sugar from 1 cup to 1/3 cup. I also have wondered about garlic? Try this with my Chicken Breasts Glazed With Hot Pepper Jelly.

I LOVED this...I made it x-tra spicy-I did the two jalapenos (1/3 cup) plus a hot 'nana pepper and lots of seed as well -lol-W/ two sweet peppers all from my garden...my first jam...it was jammin' :)...I really loved this!!! pepper jam has long been the only jam I've ever liked and now to learn how to make my own and so easy and yummy!!-so happy- Thanks sooo much WiGal!!! xoxo

Made for "I Recommend Tag"!!
Wash all peppers, cut off stems.
Remove membrane and seeds from bell peppers, dice small about 1/8 inch pieces, the chunks will stay that size even after running through the Jam cycle, cut enough to fill 2 1/4 cups worth.
Protect your hands with rubber gloves while working with the jalapeno peppers, if you want the jam to be spicy hot leave the seeds in the jalapeno peppers. (The first time I made this, I left seeds in one but thought it too hot.) Second time I made, I deseeded all halves and it came out too mild -- so next time I plan on cutting both jalapeno peppers in half, leaving seeds in 1/4 and deseeding the remaining 3/4. Cut into small pieces, about 1/8 inch.
Attach kneading blade in the bread pan.
Place ingredients into the bread pan as listed above.
Carefully insert bread pan inot breadmaker, close lid, press the Menu button until the �Jam� program is selected, and start.
When the Jam cycle is complete, open the lid and using oven mitts, remove the pan.
Let jam cool.
Using oven mitts to hold pan, use rubber spatula to pour the jam into a glass or plastic container.
Cover and refrigerate to set, about 24 hours.