Hot Day Chicken Wrap, Quick & Easy
Bergy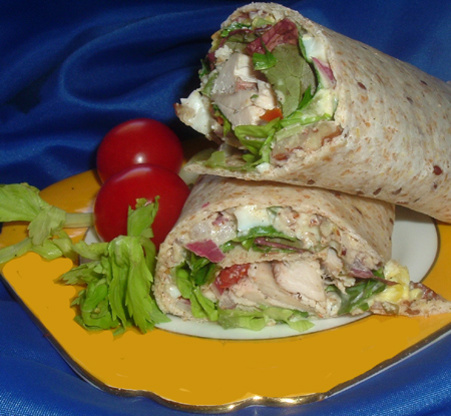 There are so many wraps but I think you will find this one a bit different, very hearty and tasty. It can be a "Do ahead" recipe by preparing all the ingredients ahead of time, place them in the fridge, assemble just before lunch. I like to use a Spring mix Lettuce that has Arugula in it but Iceberg lettuce is fine. The eggs are optional but they do add flavor.
4 1⁄2 cups cold cooked chicken, shredded

6

cups lettuce, shredded

1

cup pecans, cut in half -not chopped

9

tablespoons reduced-fat mayonnaise

3

tablespoons Dijon mustard

6

tablespoons red onions, chopped quite fine

15

cherry tomatoes, diced

6

hard-boiled eggs, cold, chopped (optional)

2

jalapenos, seeded, membrane removed, finely minced (use more if you like hot & spicy)
salt & pepper

6

large whole wheat tortillas (sun dried tomato or flour)
Mix together the mayo, Dijon, tomato, onion, eggs and jalapeño.
Season with salt & pepper.
Divide the mixture evenly and spread it on the 6 tortillas covering the whole surface.
Sprinkle on the lettuce and pecans evenly on each tortilla.
Place your shredded chicken on the edge closest to you and roll the tortilla.
Use a toothpick or two to hold together if you find it necessary.
Cut in half and arrange nicely on a platter.