Try it, you're going to love it! It just doesn't get any easier than this. Five minutes of prep work, 30 minutes of cooking time, and you have a fantastic meal. The original recipe states that it makes enough sauce for 4 chicken breasts, but I've found that it can easily be stretched to serve with at least 6 decent-size chicken breasts.
Directions
Preheat oven to 350 degrees.
Lightly spray the bottom and sides of a 10-inch casserole dish (or any baking pan large enough to hold the chicken breasts). Place the chicken breasts in the coated baking pan.
With a wooden spoon, mix the mustard, honey, apricot preserves, and ginger in a small mixing bowl until well blended. Brush (or spoon) the mustard mixture over the tops of the chicken breasts. Bake the chicken, uncovered, for 30-45 minutes (depending on thickness of the breasts).
After 15 minutes of baking turn over each chicken breast, spoon sauce over them, and continue baking for the remaining 15 minutes, or until breasts are thoroughly cooked.
Transfer the chicken breasts to individual plates. Spoon the sauce over each chicken breast serving.
(For my kids, I like to put their portion of the sauce into a small condiment cup so they can use it as a dipping sauce. What can I say -- it's a kid thing.).
Most Helpful
Very very tasty dinner. Easy to mix up and I had dinner on the table in just over a half hour. Can't beat that!

I love it when an easy recipe, with mostly pantry-type ingredients, is tasty. For so few ingredients, this chicken is very flavorful! As a personal preference, next time I will add less Dijon and more honey & apricot preserves. I really loved the apricot flavor shining through! I will put this in my make again file. :) Merci Beaucoup! ~Made for ZWT5 - Epicurean Queens~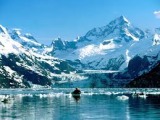 Ever have an evening where you want a delicious meal but have no inclination to prepare it? If so, then this is perfect with stock ingredients, no advance planning or equipment involved and fabulous results. I really liked the way the zing of the Dijon played off the preserves and honey. And the ginger adds just the right pepper bite to the chicken. Thanks NorthwestGal.