Honey and Lime Chicken Legs
teresas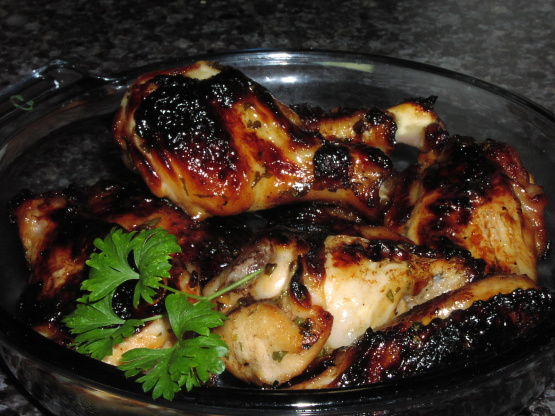 A tasty sounding recipe from cookbook titled The Family Kitchen Healthy Fast-Food. Have not included 1 hour marination time. Also think this recipe would be nice with thighs on the bone too.

I used the recipe to make chicken wings and broiled them in the oven...I thought these were very good but hubby loved them...he really enjoyed the cilantro and lime taste...I barely could taste the ingredients....made them for one of our appy nights...thanks for posting it...=)
Mix the honey with the coriander (cilantro) and stir in the lime zest and juice.
Add the chicken drumsticks and mix well, cover and chill for at least 1 hour.
Heat the grill (broiler).
Grill (broil) the chicken drumsticks, turning and brushing frequently with the marinade for about 25 minutes or until cooked through (to check, pierce the drumsticks at its thickest part, next to the bone, the juices should run clear), timing could depend on size of drumsticks too.